Zoom job : Welding Assembling Workshop Manager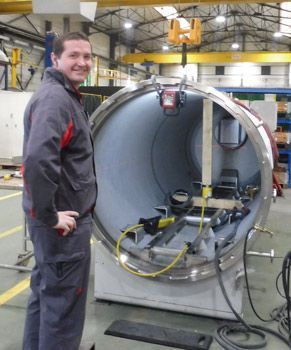 Welding Assembling Workshop Manager at Steriflow
The learning of a job is mainly done in the field. Let us to meet those thanks to whom know-how is preserved, and Steriflow 's position is maintained as a leader in industrial sterilisation. Interview with Jérôme E., a compagnon at Steriflow since 1998 and Welding Assembling team leader for the past few months. Thanks to Jérôme for playing the question-and-answer game.
You have recently become a Welding Assembling Workshop Manager, tell us more about your career path?
After obtaining a BEP CAP in boilermaking at the CFAI in Mably, I continued my studies at the Lycée Sampaix in Roanne. It was as a boilermaking apprentice that I began my professional adventure at Steriflow in 1998. During this apprenticeship period, I was lucky enough to be able to discover all the production stages of an industrial autoclave. I was trained in rolling, bending and flow to continue on to the boilermaking part. I am a Steriflow compagnon, which means that, in addition to my position as team leader, I am required to travel abroad to customer site for maintenance, repair, servicing. For 18 years, I have been travelling internationally, whether in Thailand, Canada, China, etc…. An good experience and extraordinarily rich meetings. Now father of a family, I wished to reduce my travels. My recent promotion to team leader allows me to travel as much as before.
What is your job ?
I've been a Welding Assembling Team Leader for a few months now. Before that, I was under the guidance of my predecessor as a boilermaker-welder. Today, my position has evolved and I have 5 people in my team. My role is technical, organizational and managerial at the same time. The role of my team is to receive the parts assembled by the sub-assembly division. Whether it be piping and exchangers (essential for heating and water circulation), we are an important link in the chain in the manufacturing of autoclaves. Welding ensures homogeneity and avoids any risk of leaks. For each new order of an industrial sterilizer from one of our customers, I have to prepare the plans and make them available to my team. My job requires me to have a broad vision in order to anticipate any problem we might encounter during production (e.g. stock shortages). On receipt of the material, I check that all the parts are delivered. I put them away and organise them so that each team member can quickly use the products without wasting time looking for them.  I am a support for my team and report problems to the production manager. I am regularly in exchange with different people: the quality and environment manager, the store manager, the production manager, control and handling…. Once all the boiler elements are boiler-made and assembled, the autoclave goes through the NDT – pickling – insulation. In order to test the tightness, all our equipment undergoes a hydraulic test. They are then pickled (to protect them from corrosion) and insulated before being finished at the final assembly, before shipment.
What is the training needed ?
Boilermaker-welders are trained by technical training centres. Our company is located in Roanne in the Loire and has a training centre, the CFAI, which trains young people in boilermaking and welding. At the end of this training, the young people can leave with a CAP, BAC PRO, BTS boilermaking welding and enter the job market. Steriflow welcomes a lot of young people in apprenticeship because we think it is important to preserve a know-how that has existed for more than 45 years. Having joined the company as an apprentice, I am keen to share my experience and knowledge.
What do you like about your work?
It's interesting to be able to follow all the steps in the design of an autoclave. From the reception of the stainless steel parts to the installation at the customer's premises. It's always rewarding to see the result of one's work and especially to see a satisfied customer. Working in a team means having to manage people and answer everyone's questions and fears. The team leader must be able to reassure his team, motivate it, monitor production and remain a technical reference in the workshop.
Find a training course in boilermaking : Pôle Formation des Industries Technologiques / CFAI Loire – Roanne