ROTARY STERIFLOW
Strength, reliability, lower maintenance
A method for sterilizing food products which are recommended to be stirred.  A triangulated structure makes the drum very strong ; it has been successfully used since our first patent 30 years ago. Rotary Steriflow is made for maximum efficiency, for extensive use with any type of packaging.
Rotary Steriflow
His stainless steel drum enables a product rotation. His particularly resilient mechanical design continued to evolve since the deposit of the 2nd patent in 1991 with a triangulated structure drum even more reliable.
The strength of this drum has been widely tried, it is capable of supporting heavy packaging such as cans and jars. With Rotary Steriflow there will be nothing broken, no production shutdowns due to a weak manufacturing that can't bear excessive weight.
This retort has been specifically studied and designed to meet the needs of our customers regardless of the type of packaging used, lightest to heaviest.
Maximum capacity of 6 baskets.
Click on the image to enlarge: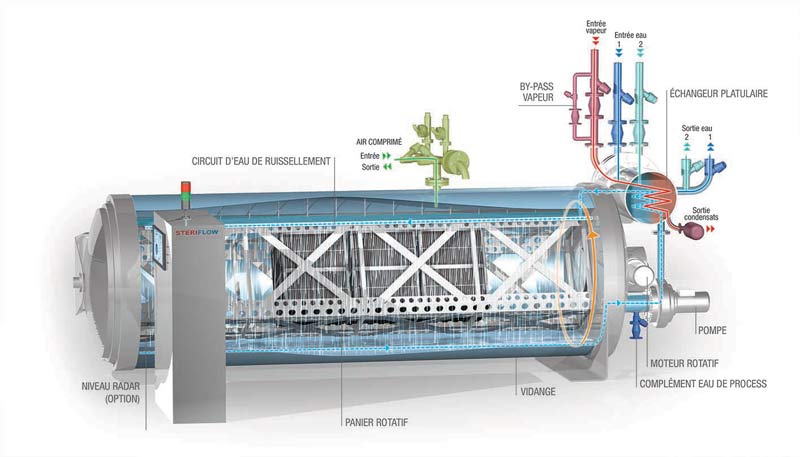 Technical specifications :
Standard sizes :
1300 mm, corresponding to maximum size of manually operable basket (476 cans 4/4) and a capacity from 1 to 12 baskets
900 mm
1600 mm, from 1 to 6 baskets
1800 mm, 4 and 5 baskets
Power  :
Rotary Steriflow has a powerful pump shortening cycles wich become more homogeneous. All products inside the retort get treated the same at any operating position. Shorter cycle can provide better performance.
Temperature :
The sterilization temperature (sterilization value or FO) is defined by the manufacturer and will depend on the initial contamination of the product and its bacteriological characteristics.
Benefits :
Some products shall be stirred during the sterilization cycle to :
Avoid browning to the edge of packaging
Mix water in rice pouch to ensure that it will not stick
For qualitative reasons, mixing may be useful…
Baskets rotate under a heavy water streaming. This is a method for improving heat transfer into the packaging and reducing processing times and energy costs at the same time.
Water streaming process is the most appropriate to rotation. When it is thought of as Air/steam, gas mixing should be facilitated by side plates such as Static machine, but the drum space makes it impossible. This is causing major problems for temperature homogeneity in Air steam rotary autoclaves.
Types of packaging or products :
Rotary Steriflow is generalized to better adapt to all type of packaging. All of them may be treated.
Accessories
Accessories are specific for each product, packaging and application.
Rotary Steriflow is a standard retort. Basket type  is defined by an agreement between our qualified and skilled engineers and your product knowledge.
Basket for pouches W4