ROBUSTEX 90L Saturated steam sterilization for NGO
The Robustex retort is designed by TBM, specialized in steam retort. This company has been taken over in 2011 by Steriflow. The design results from a partnership between TBM and associations such as MSF and the International Red Cross. Easy to use, robust and handy. Specifically designed to match the challenging operating conditions of medical emergencies.
Meets the requirements of the NGOs in the area of emergency operation
 Power supply is available with oil, gas and electricity.
Robustex retort is entirely manually operated.
All stainless steel construction AISI 304L.
It is used by many NGOs worldwide.
Functionning : Products are put in the Robustex with water vapor which will be saturated by heating. Vacuuming is done with cold water circulating in a coil. Venting through a filter.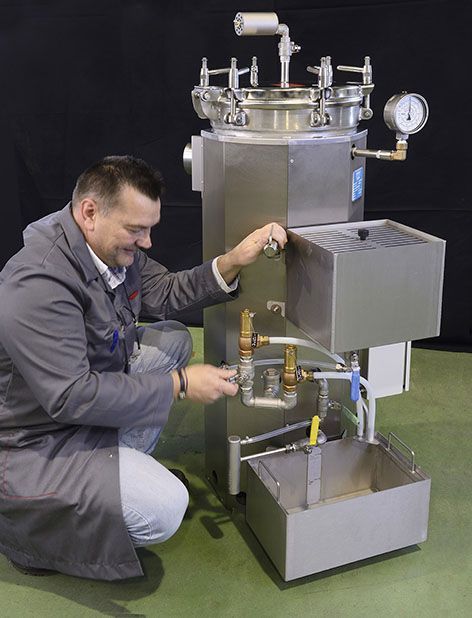 Technical specifications :
Capacity : 90 liters,
Made of stainless steel 304 L,
Heating : electricity, gasoline, or gas,
Diameter : 400 mm,
Temperature controlling range : 121°C – 134°C
Befenits :
Optimum adaptation to very difficult conditions in the field.
Very easy to use (manual).
The types of products or packaging :
Surgical instruments
textiles
stainless steel parts