STATIC STERIFLOW
Quality, Reliability and maintenance Simplicity
Our Static Steriflow is an autoclave that is extremely easy to use. Indeed, as the number of mechanical parts is reduced, maintenance is simplified and restricted to the bare minimum. The MPI programmer runs the cycle automatically, and serves as a recording device and control interface, fitted into an architecture similar to a hardened industrial computer setting. This autoclave is suited for sterilizing your jars, cans, bottles, pouches, trays, etc.
Static Steriflow water cascading
Perfectly suited for the food industry, this autoclave combines simple use and reliable construction – guaranteeing more longevity. If we had to sum up our Steriflow Static in 2 words it would be simplicity and solidity. An autoclave that is both reassuring thanks to its consistency and complies with current requirements as it is less energy-consuming than most of its competitors. This autoclave is perfectly suited for food sterilization.

How a Steriflow Static autoclave works and is used : The Steriflow Static is fitted with a powerful pump, for shorter and more homogeneous cycles. All the products inside the autoclave get the same thermal treatment, regardless of their position. The reduced cycle time also ensures better results.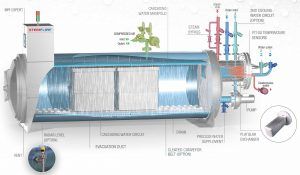 Technical specifications :
Standard diameters:
900 mm,
1,300 mm, this diameter corresponds to the maximum size of a manual basket (476 1/1 cans) and a capacity of 1 to 12 baskets.
1,450 mm,
1,600 mm,
1,800 mm,
2,000 mm,
2,100 mm (the first of its category in 1982),
2,300 mm (the first in 1984).
With a capacity of 2 to 7 baskets.
Advantages
As the number of mechanical parts is reduced, there are fewer mechanical breakdowns. This has an impact on maintenance costs, which are of course lower.
Given its simple use, training time is also greatly reduced.
High level of flexibility: it can adapt to all types of packaging (cans, jars, glass or plastic jars, etc.).
All products are cooled with sterilized water.
Product and packaging types
This autoclave is adapted to all types of packaging :
large pouches
plastic trays
small pouches
plastic or glass containers/jars
cans, etc.
Accessories
Basket design is related to packaging :
We ensure package integrity by using basket designs suitable for our customer needs and a good homogeneity of the temperature inside the basket.
Regardless their position, below or above the basket, the quality fo the product will be the same.
Cans / jars :
Stainless steel baskets that contain plastic layer pad between layers.
Flexible packaging (large pouches, plastic trays, small pouches) :
We offer stackable baskets with stainless steel trays. Packaging are safely stacked one on top of the other, avoiding distortion.
PCR type basket W1

PET type basket W2

PTP type basket

Plastic crate W13