Prohibition of plastic containers and utensils by 2020: a turning point for packaging professionals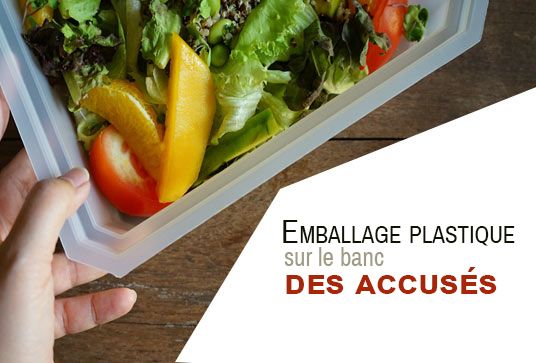 Agriculture and Food Law
On October 25, 2018, the French Constitutional Council rule on the Agriculture and Food Law, which prohibits the marketing and use of a many number of plastic containers. Packaging professionals are protesting because this new law could potentially threaten more than 2,500 jobs and generate a loss of more than € 800 million *. (Elipso source)
What will change with the Agriculture and Food Law?
Aimed at reducing plastic waste and in order to protect the environment and public health, the Constitutional Council ruled on a ban on single-use plastics. Two important plastic amendments to the Agriculture and Food Act concern the packaging industry. Indeed, the deputy François-Michel Lambert proposed an amendment that, from January 1, 2020, will imply the end of the provision of cups, glasses and disposable kitchen plates for the table, straws, cutlery, steaks, disposable glass lids, meal trays, ice cream jars, salad bowls, plastic beverage mixing sticks and sticks. Only compostable household composting materials, consisting of all or part of biosourced materials, will be permitted. The second amendment by Laurianne Rossi aims to end the use of food containers for cooking, heating and plastic service, in the catering services of schools and universities as well as establishments no later than January 1 2025. These amendments were found to be in conformity with the Constitution.
What alternatives to plastic packaging?
The packaging manufacturers did not wait for the imperatives of the amendments of the Constitutional Council to think about alternatives to plastic. Already regulated trays have been marketed to central kitchens. Composed of pressed cellulose and molded cellulose, they are biosourced (virgin cellulose fibres) and compostable (mostly industrial compost). The production of these new products generates an additional cost compared to polypropylene (+10 to 20% for pressed cellulose, +30 to 40% for moulded cellulose). Analyses have identified the strengths and weaknesses of "bioplastics". Between PLA (polylactic acid) and PHA (plyhydroxyalcoates or polyhydroxybutyrates) which have an oxygen and water seal, cellulosic products, more porous by nature are oxygen permeable and starch-based products are hydrophilic. Some materials are not fully biosourced (starch/polyesters mixtures, non-biodegradable biosourced polyesters) and others involve polluting manufacturing processes or highly energetic extractions (cellulose/molded cellulose derivatives, PHA). PLA is not compostable as a household compost. Edible packaging also enters the market. According to the various analyses, progress still needs to be made to offer packaging that can be used for industrial, ecological sterilization and with costs of correct production for companies.
Steriflow, when efficiency rhymes with adaptability
"Industrial autoclaves manufacturer for more than 40 years, we have had to adapt our sterilization and pasteurization processes in recent years to meet the constraints of new packaging on the market. The basis for sterilization passes by the sealing of the product packaging during and after the cycle. If the packaging material is porous, sterility cannot be guaranteed. This is the case for cellulosic packaging, porous in nature and therefore permeable to oxygen. We attach great importance to working with packaging suppliers. This teamwork makes it possible to be aware of new developments and problems inherent in the sterilization of new vegetable, bio-based or cellulose packaging. Some of our customers make the choice to return to the glass container, even if the latter is more expensive and constraining in terms of logistics. When flexible and semi-rigid packaging is put on the market, we offer our customers to help them set the pressure in the retort and allow the preservation of the shape of the packaging. Much remains to be done, especially with these new packaging products, and we now know that collaboration with packaging professionals is essential. Our testing laboratory based in Roanne in the Loire, allows us to carry out leak tests on the new packaging. By being able to adapt quickly to market developments, Steriflow intends to maintain its position as a leader in the manufacture of industrial autoclaves." Claire Brilhac, test laboratory manager at Steriflow.