Milk pouch sterilization in the food industry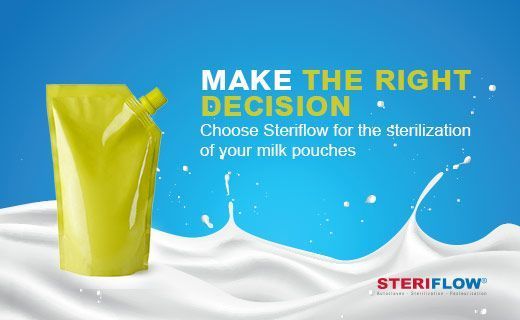 How to sterilize a milk pouch while avoiding browning?
This is the problem that Steriflow has recently answered. A future customer in North America wanted to sterilize milk pouches and was considering the purchase of a rotary autoclave. The customer had no knowledge of Steriflow's company, nor of the autoclaves with water cascading sterilization process. The team presented the range of sterilizers allowing the product to be agitated during heat treatment. After several tests, the team was able to prove the superiority of the Steriflow sterilization solution for sterilizing milk in pouches.
The optimal Dali autoclave for pouch milk sterilization
After discussions with the technical team, the choice of a Dali autoclave versus a rotary became obvious. The Dali Steriflow allows the agitation of liquid and low-viscosity products. Its low-frequency horizontal movement leads to a gentle agitation of the products. This agitation is sufficient to avoid skin formation and browning of the milk during sterilization. After 3 products test sessions, the customer was convinced.
Dali Autoclave
Characteristics: From 900mm to 2000mm diameters, from 2 to 9 baskets capacity depending on the diameter, low frequency longitudinal movement (10 to 15 strokes per minute). Applications and types of packaging: liquid products, dairy products, sauces, bottles, bags, cans.