Industry 4.0, what is the intelligence customers want to implement in the autoclave?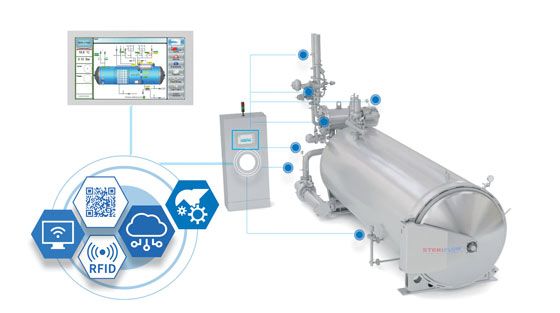 Improving the industrial productivity by 10 % with Steriflow autoclaves
Why make an industrial autoclave smarter?
Industrial companies already optimize their product recipes and sterilization cycles. Steriflow makes sure that all sterilization process can be strictly followed. In 2018, Steriflow started talking to its customers worldwide about autoclave 4.0. Steriflow discussed with customers about issues they face in sterilization/pasteurization in general and also about "4.0". From that moment, a lot of interesting things was said and Steriflow started developing clever solutions. Several Steriflow customers asked how they can make industrial autoclave smarter.
Improving the industrial productivity by 10 % with Steriflow autoclaves
Thanks to all exchanges with customers, Steriflow developed more than 20 new functions to help operate Steriflow autoclaves in a smarter way.
Securing industrial autoclave data is a priority
However, before reaching this 10% target, the primary concern of Steriflow customers remains process safety. Steriflow knows that the autoclave is a central piece of equipment in the production line. The security of the whole sterilization process is therefore imperative. Cybersecurity is extremely important.
Smart Sensors autoclaves: the most advantages of the industry 4.0
The MPI Expert developed by Steriflow is a reliable and useful tool, essential to the control of the autoclaves. Modern autoclaves are already using several sensors in order to keep the sterilization cycle under control. The MPI Expert has numerous safety alerts to monitor a proper functioning of the sterilization process. It is important to make sure data are safely secured. Steriflow works with expert in data collection from smart sensors. Sensors are smart because they allow direct digital communication of process data with IO Link. It is not analog anymore. The sensors are also able to make a self-diagnostic of their operation in case of deviation based on historical readings. For example, with a smart temperature probe is it possible to continuously control the reliability of the collected data. That make sure the sterilization cycle is following the program. In the end, it is improving process safety. Each critical parameter is accurately controlled (temperature, pressure, time). Today when a customer is willing to improve the process safety the installation of redundant sensors is proposed.
Clever data collection is also a question of traceability
Clever data collection is not only about sensors, but it is also about the ability to improve traceability. When there is a lot of baskets full of products it is easy to make a mistake. Sending products to packaging while they did not go through the autoclave is possible. To avoid this kind of mistake, Steriflow developed a solution through QR code reading. This makes the organization much safer. When the products are loaded into the baskets, those baskets are scanned. This operation informs the control system that they are waiting to go into the autoclave. When the products go out of the Steriflow, the baskets go through another scanner to validate it went through sterilization. Products can then go to packaging line.
20 clever solutions developed; it is just the beginning
Steriflow already developed 20 of those solutions so far and… it is just the beginning. Functions can be put in 4 main categories: Easier Maintenance, Improved traceability, Operation monitoring and Secured communication.