Webinar | What is the positive impact of a tongue shuttle on a retort?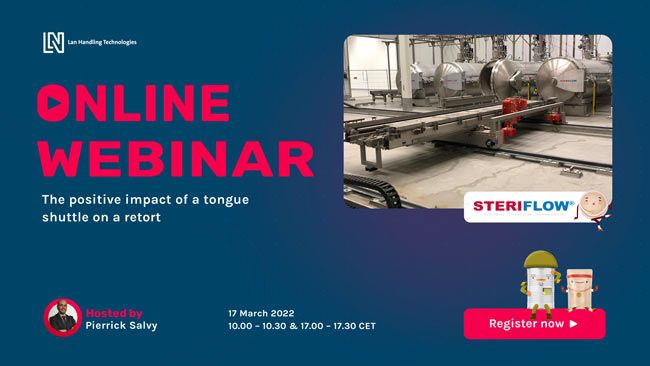 Join our webinar! 17 MAR 2022: 10.00 – 10.30 & 17.00 – 17.30 CET
Together with our partner Lan Handling Technologies, we discuss the latest developments related to retort loading.
Food safety and ergonomics are increasingly important within a retort room. Fully automated retort (un)loading can give your organization a major boost in the right direction. For example, when integrating a retort shuttle, with which takes the entire load in and out of the retort in one go.
In this 30 min. webinar we will..
Highlight Steriflow Industry 4.0 philosophy related to retorts.

Explain various ways of loading and unloading retort.

Point out the benefits of (un)loading retorts with a tongue shuttle.
You will have the opportunity to ask your questions via the live chat.
Speaker: Pierrick Salvy – Sales Manager, Steriflow
Host: Marc de Vries – Manager Sales, Lan Handling Technologies
17 MAR 2022: 10.00 – 10.30 & 17.00 – 17.30 CET