Viscosity of hyaluronic acid preserved thanks to water cascading process by Steriflow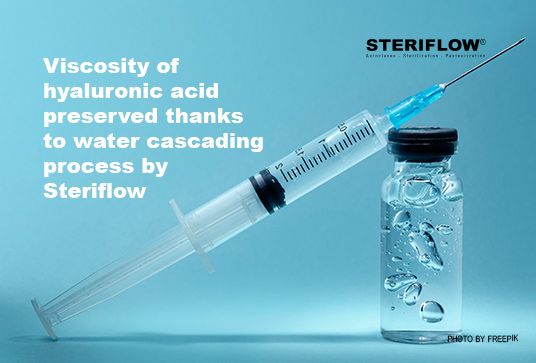 Steriflow's water cascading process provides the best results for hyaluronic acid sterilization.
Different sterilization processus may be used, but knowing that the shorter time exposure to heat the better, Steriflow water cascading process has prouved to be the best.
Sterilization of hyaluronic acid with a Steriflow autoclave
Various tests were carried out on hyaluronic acid gel. The test of a non-cross-linked gel with a low concentration of 1% hyaluronic acid and particularly sensitive to heat has shown the superiority of water cascading process compared to steam. The efficiency of the thermal conductivity of water on the syringe body brings better results than the conductivity of steam. In addition, the Steriflow industrial autoclaves allow the temperature to fall below 60°C very quickly thanks to the water cascading process.
The benefits of hyaluronic acid
Hyaluronic acid is a biocompatible and bioabsorbable molecule with viscoelastic properties. The body recognizes it and will not reject it. Widely used in the aesthetic and cosmetic field, hyaluronic acid is also an effective anti-inflammatory treatment against pain. Its uses are numerous: treatment against osteoarthritis, arthritis, within the framework of surgical operations such as glaucoma, cataract or to fill wrinkles for example. The range of use of the acid is important.
Presented in two forms, cross-linked and non-cross-linked, hyaluronic acid is used in orthopedics, rheumatology, ophthalmology and cosmetics / aesthetics. For each use, there are beneficial properties of the acid.
Why sterilize hyaluronic acid?
Hyaluronic acid is used in the context of medical devices which impose sterility standards (ISO111-37). The other processes of sterilization (microfiltration, UV) will not ensure total sterilization. Sterilization by heat of the hyaluronic acid is the most effective. The heat will reduce the long chains of the molecule and create smaller molecules.