Very efficient meat sterilization with Steriflow autoclaves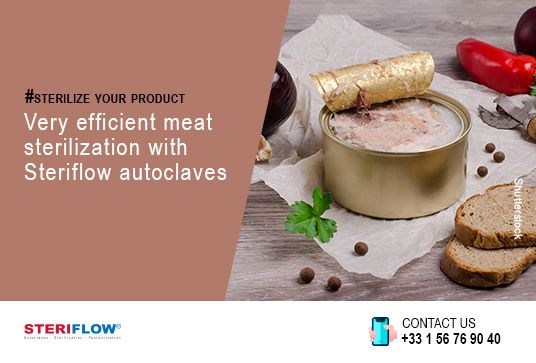 Sous-vide in pouches, sterilized in cans or jars, the Steriflow water cascading process guarantees the homogeneity of sterilization of your meat products.
R&D tests conducted in our laboratory allowed to determine the best way to sterilize meat. Steriflow autoclaves, with the water cascading process, are the most efficient equipment for these products. The tests confirm that the meat retains its tenderness and that the cycle time is reduced compared to steam or air/steam autoclaves. For vacuum pouches pasteurization, the low temperature process allows a perfect homogeneity and a reduction of exudates thanks to the efficiency of the back pressure adjustment
Steriflow is committed to reduce energy costs. With its bespoke solutions, customers can significantly reduce their consumption of steam and water. In addition to this environmental approach, Steriflow has begun a reflection with its customers in order to identify the expectations in terms of sterilization / pasteurization and industry 4.0. How to make industrial autoclaves smarter ? One answer to this is to install autoclaves with intelligent sensors. 20 options have been developed to date in order to ensure easy maintenance, improved traceability, better monitoring of operations and communication security.