The great return of glass, the alternative to plastic packaging, 100% recyclable and reusable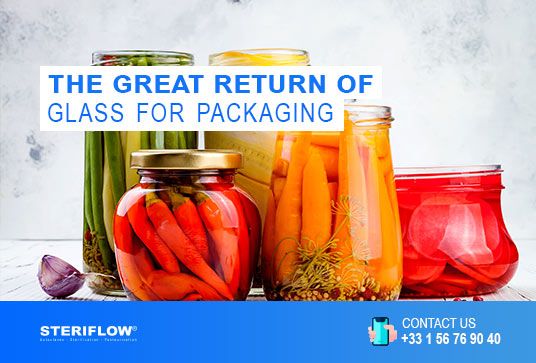 The announcement of the ban on the use of a large number of plastic plastic by the French Constitutional Council was a real coup de grâce for packaging professionals in the food industry. Since this announcement, manufacturers have been thinking about the best alternative solutions. Glass packaging has seen its popularity rise for some time. Benefiting from a good image with consumers, manufacturers are being encouraged to return to glass.
Glass packaging, popular with consumers
Glass packaging has advantages that encourage its use. It is suitable for packaging food products as well as beverages and pharmaceutical products. A real barrier for food, it retains its organoleptic qualities, is neutral, gas tight, and resists high internal pressures. Glass is 100% recyclable and can be reused indefinitely, a strong argument that convinces industrialists, … The recyclable and reusable aspect of a packaging can be a condition in the purchasing process of a product. Although zero waste is the major current trend in terms of consumption, containers are, for food, a vector of protection and conservation. After a study of a panel of French consumers, 49%* of them demand the return of glass packaging.
The return to glass, a use at the heart of environmental debates
Glass benefits from advantages that no longer need to be proven. However, it has been proven that its use requires specific logistics and that optimisations to reduce the environmental footprint during recycling need to be put in place. Manufacturers are aware of the importance of environmental protection and are considering initiatives to meet sustainable consumption and production targets. The European Container Glass Federation (ECGF) is launching a project to build a hybrid furnace, the "furnace of the future". This would halve the CO2 emissions associated with the production of container glass. Recycling glass will limit the consumption of natural resources and consume less energy.
The Steriflow sterilization process is effective for the sterilization of glass packaging.
The water cascading process by Steriflow is particularly recommended for the heat treatment of glass packaging. Cooling by means of process water with a finely controlled temperature avoids thermal shock to the glass and thus the risk of breakage. In the last half of 2020, many customers have entrusted us with sterilization projects for glass packaging, whether in jars, bottles or glasses. Read our article on the ban on plastic containers and utensils by 2020 Learn more about our sterilisation process 
* Analyser Alkemics Opinion Way 2020