Steriflow winner of the innovation prize at SIAL Paris 2018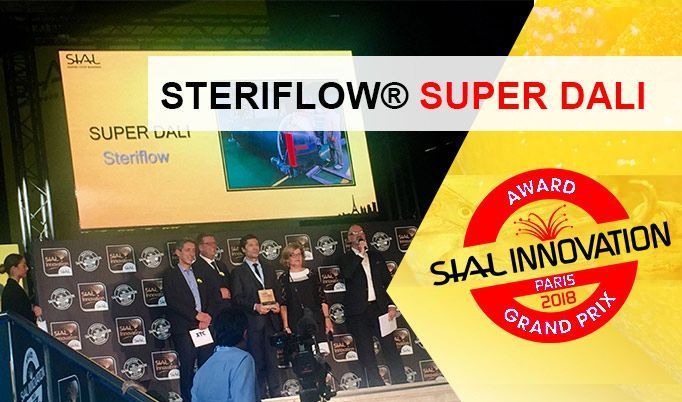 Development of a new autoclave : the Super DALI
In world preview, STERIFLOW launches it's new industrial sterilization device : the Super DALI. This autoclave is an extension in the already existing range and is positioned between standard DALI and the SHAKA. After 6 months testing in the factory of Roanne (Loire), it will be marketed as of October 2018 and will be presented at the SIAL Innovation Paris 2018 from October 21st to October 25th.
To always be performing and to solve inherent issues to food sterilization and pasteurization process, STERIFLOW has developed a new product: the Super DALI. Thanks to the frequency of the movements in the autoclave (45 back and forth per minute vs 12 for the standard DALI and 150 for the SHAKA), the packed product is perfectly mixed and this avoids overcooking on the surface. Adapted to liquid products such as dairy products, the increase in the frequency of the movements makes it possible to reduce the time of process.
"We are very happy to launch the Super DALI. It allows to widening our range of autoclaves and answers the constraints and requirements of certain packed products of our customers. Our autoclaves guarantee the safeguarding of nutritional and organoleptic qualities of the sterilized products. It is an innovation in the field of the industrial sterilization which is addressed to companies wishing to reduce the sterilization/pasteurization cycle time while preserving the quality of final product" specifies Charles-Henri de La Motte, STERIFLOW's President.
Steriflow winner of the innovation prize at SIAL Paris 2018
From the 21st to the 25th of October, Steriflow participated in the SIAL International Innovation Fair and took home the winner of the 2018 edition with the Innovation Award in the Equipment & Technology category.
Interview with Mr. Charles Henri de La Motte presenting the Super Dali