Secure the access rights to your autoclaves with the RFID system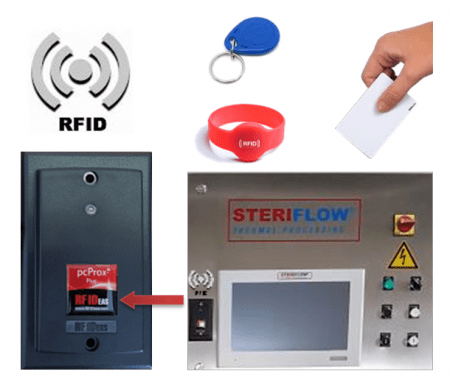 A simple device to improve data security and traceability
Steriflow offers simple and safe solutions to manage access permissions of your operators to the autoclaves. Thanks to the new reader IP67 rated – easily installed into the control box -, and its personal card, every person working on the autoclave is rapidly identified and its operations checked and registered.
According to the rights of the working person, the autoclave control system is unlocked by a magnetic or a chip card. No loss of time by entering logins and no password to memorize. The system offers a great flexibility as it is compatible with many card formats and holders : keychain, bracelet, ..  The administrator can easily manage access rights for each employee (operator, maintenance manager, quality manager, etc). The access to the autoclave control system is automatically barred after a configurable down time.
All this ensures full data security with a greater simplicity!