Preserved hyaluronic acid viscoelastic properties, thanks to superheated water cascading sterilization process in Steriflow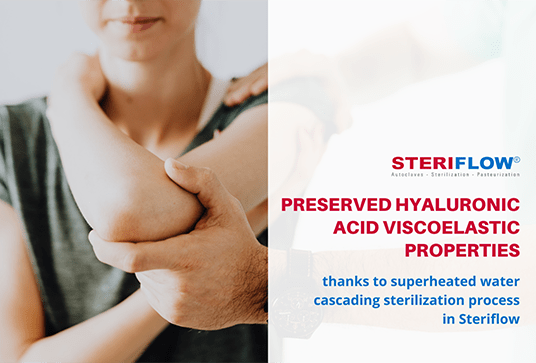 Interview Alberto Piasco - Biopolymer Development Engineer - SyrHA, Switzerland Claire Brilhac - Technological engineer - Steriflow, France
Thermal treatment by superheated water cascading sterilization process in Steriflow allows optimal sterilization of hyaluronic acid. First tests were carried out at Steriflow in 2009 with the Corneal company, which validated this type of sterilization. Then in 2016, the Contipro company conducted trials. Until then, Contipro had been using a saturated steam autoclave from a competing company. After tests in the Steriflow laboratory, the company was convinced by the results obtained. Recently, the company SyrHA was surprised to see the efficiency of the sterilization with a superheated water cascading autoclave. Since then, the company has continued its research into optimizing the treatment of its products with superheated water.
The sterilization of hyaluronic acid is complex, because exposed to high temperatures, it looses its rheological properties. Composed of biocompatible and bioabsorbable molecules, it is commonly used in the aesthetic and cosmetic fields. Hyaluronic acid is also an effective anti-inflammatory treatment and analgesic treatment.
Hyaluronic acid, uses and properties
Three types of uses of hyaluronic acid (h.a)
Orthopedics and rheumatology
Used to treat and relieve bone diseases, the acid lubricates the joints to reduce the pain of arthritis or osteoarthritis for example.
Ophthalmology
Hyaluronic acid is used during ophthalmological surgeries (cornea transplantation, cataract, glaucoma, etc.).
Cosmetic and aesthetic
Filling wrinkles and dark circles, reshaping the face, smoothing or swelling the lips, hyaluronic acid injections are numerous and are performed on men or women.
Interview with Alberto Piasco Biopolymer development engineer Syrha - Switzerland
In order to honor experts in their field, we interviewed Mr. Alberto Piasco. The Interview was taken by Claire Brilhac, engineer technologist at Steriflow, in charge of the tests on the products and packaging customers.
Claire Brilhac (C.B)
Mr. Piasco, you are now a specialist in polysaccharide-based medical devices, and have a strong expertise in hyaluronic acid. Why did you contact Steriflow?
Alberto Piasco (A.P)
The sterilization of hyaluronic acid is complex. It is used in the pharmaceutical and cosmetic industries. It is a very viscous product which has the particularity of losing part of its viscoelastic properties when exposed to high temperatures (over 60°C). However, it must necessarily be sterilized before its use (the sought sterilizing value is higher than 15 minutes) while optimizing the conservation of its material.
C.B :What are the specificities of HA?
A.P :It is a biocompatible and bio-absorbable molecule, which the body recognizes and will not reject.
Moreover, it is a hydrophilic molecule that can absorb a large quantity of water. It is a molecule with viscoelastic properties capable of absorbing and releasing energy.
Finally, on a biological level, thanks to its very high molecular weight, it has an anti-inflammatory effect on the cells.
C.B :Is it necessary to sterilize HA?
A.P :Yes, because HA falls within the scope of medical devices that require sterility standards (ISO-17665).
Moreover, heat sterilization is the most efficient compared to UV sterilization which will not ensure total sterilization, or microfiltration which will only be possible for very low HA concentrations.
C.B :Does heat degrade the molecule and if so at what level/what are the consequences?
A.P :Heat will reduce the long chains of the molecule and create smaller molecules which will create an inflammatory risk and limit the remanence of the product in the body. Heat causes HA to lose some of its viscoelastic properties.
C.B :Have you tested different types of heat treatment?
A.P :Yes, steam sterilization (steam air and saturated steam) and sterilization with superheated water.
If all the types of heat treatments allow to obtain the desired bacterial destruction (sterilizing value), all do not have the same impact on the integrity of the HA molecule. Indeed, the longer the time of exposure to heat (the molecule starts to degrade above 60°C), the more the viscoelastic properties will be impacted.
C.B :Which process gave the best results?
A.P :Sterilization by water cascading. In fact, we had tested the "worst case" using a non-cross-linked gel with a low concentration of HA (1%). This gel is particularly sensitive to heat and degrades easily.
C.B :Were you able to measure these results?
A.P :We obtained a gel that had 20% more viscoelastic properties compared to steam sterilization! We were impressed by these results.
C.B :How do you explain it?
A.P :By the efficiency of the thermal conductivity of water. Indeed, it is much better on the body of the syringe than the conductivity of the air and steam mixture. Moreover, the cooling in Steriflow by cascading water is very efficient and allows to go back very quickly under the critical bar of 60°C (to preserve the viscoelastic properties of the product).