Forklift loading, a cost-efficient solution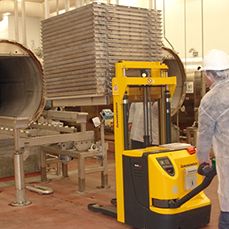 A manual basket loading alternative
Steriflow offers you an alternative to basket loading through trolleys : one loading/unloading platform is installed in front of each Steriflow, and baskets are brought in and out with a forklift.
The use of a forklift makes possible « manual » handling of heavy baskets. It is also a solution for companies that want to get rid of trolley handling. The basket loading/unloading time is slightly longer than with trolleys, but allows fewer efforts for their operators without having to invest in expensive fully automatic basket handling.
Available for any size of Steriflow. It can be connected to a dog chain conveyor inside the autoclave.  Also It can be associated with automatic loader or unloader and avoid a shuttle. Different levels of automation are possible to link the basket on the platform and the Steriflow, from fully manual to fully automatic.  Finally, for a small investment, it allows you to reduce your operators efforts !