Djazagro – Algiers (Algeria) – 9 to 12 April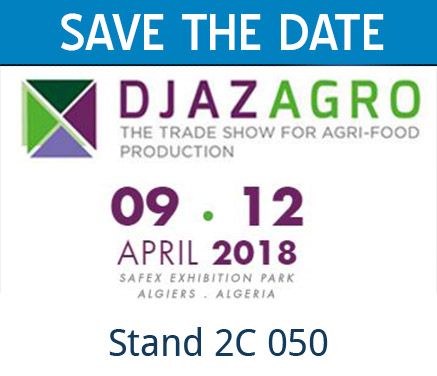 Steriflow at Djazagro in Algiers - 9 - 12 April
Meet the Steriflow teams until 12 April in Algiers, Algeria at Djazagro Stand 2C 050.
DJAZAGRO, CREATED IN 2003 IN ALGER, IS THE PROFESSIONAL EXHIBITION FOR AGRO-FOOD PRODUCTION
A key annual event in Algeria, DJAZAGRO is the key event, with an international and global offer, spread over 5 sectors : Process & Packaging, Bakery – Pastry, Food & Beverages, Ingredients & Flavours, Catering.
In 2018, it will take place from 09 to 12 April in Halls 1, 2, 3 and 4 of the SAFEX Exhibition Centre in Algiers.DJAZAGRO exhibitors, exclusively manufacturers, meet the needs of more than 20,000 trade visitors in search of know-how, machines and partnerships.
All participate in the development of agri-food production in Africa.
More information: https://www.djazagro.com/