Delivery of your autoclaves and spare parts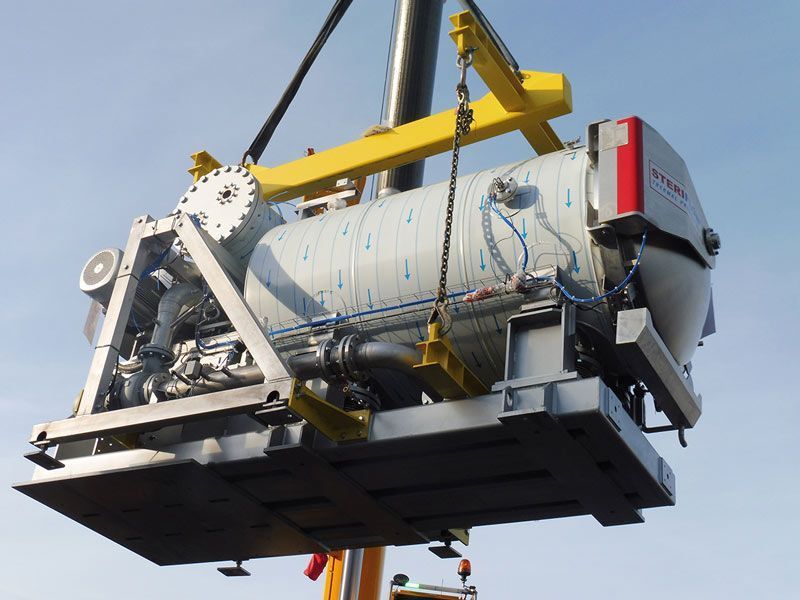 The Sales Administration Department (SAD): a travel agency for your autoclaves
Steriflow's SAD comes in at the very end of the autoclave (industrial steriliser) manufacturing process. It is in charge of organising machine and spare part dispatch throughout the world.
A few figures:
More than 1,500 spare parts sent per year
More than 100 industrial autoclaves dispatched worldwide per year

Depending on the customer's required destination, the SAD is tasked with finding the most suitable means of transport. The goal is always the same: ensuring timely delivery at the best possible price. Steriflow works with long-standing transport partners, to ensure optimal transport conditions (knowledge of the equipment's special features, as well as loading and unloading requirements).
Spare part delivery
The SAD also comes in every day immediately after those who prepare spare part packages. For your spare parts to be delivered promptly, our SAD selects the best transport means, regardless of your geographical location.
Ex-EU deliveries:
Dispatching to countries outside the European Union requires transiting through customs. Each country has its own import regulations, that need to be complied with before crossing the border. The World Trade Organisation (WTO) is in charge of the rules to be respected when countries trade goods. For the "Made in France" label to be applied to our autoclaves, our SAD works in partnership with the French Chamber of Commerce and Industry. Indeed, when crossing the border, some countries require a certification of where the imported machine was manufactured. Your country's import regulations are therefore no secret to our SAD, and our technical teams will provide you with all the necessary documents to ensure our France-made industrial autoclaves cross the border smoothly.
FOCUS on three out-of-the-ordinary Steriflow deliveries
Our SAD is capable of mobilising all necessary equipment for loading the lorries and containers delivered all around the world.
1/ Loading an autoclave using a crane
The SHAKA is a patented Steriflow autoclave that obtains excellent sterilisation results thanks to an innovative shaking process and excellent control of the products' heat treatment. As it is heavier than our standard autoclaves (weighing more than 10 tonnes), it cannot be loaded onto our bridge crane. We therefore used a normal crane to load the equipment into the container.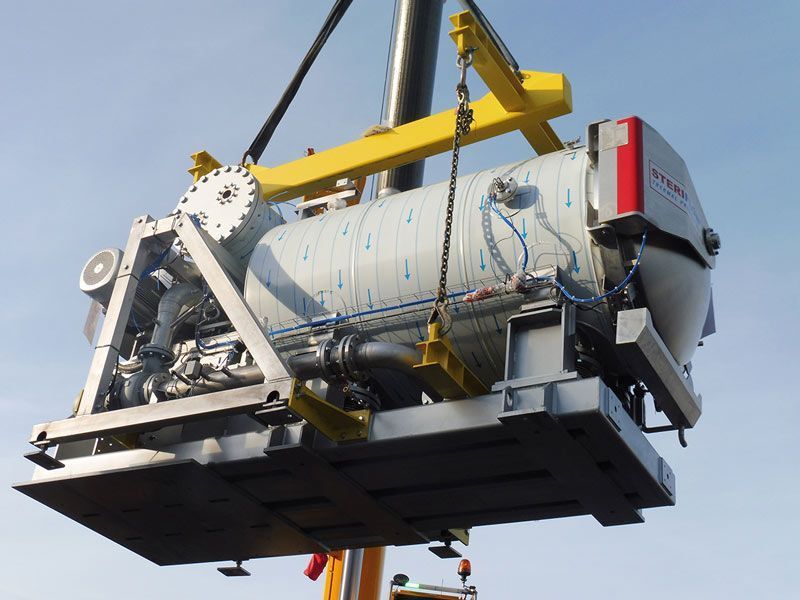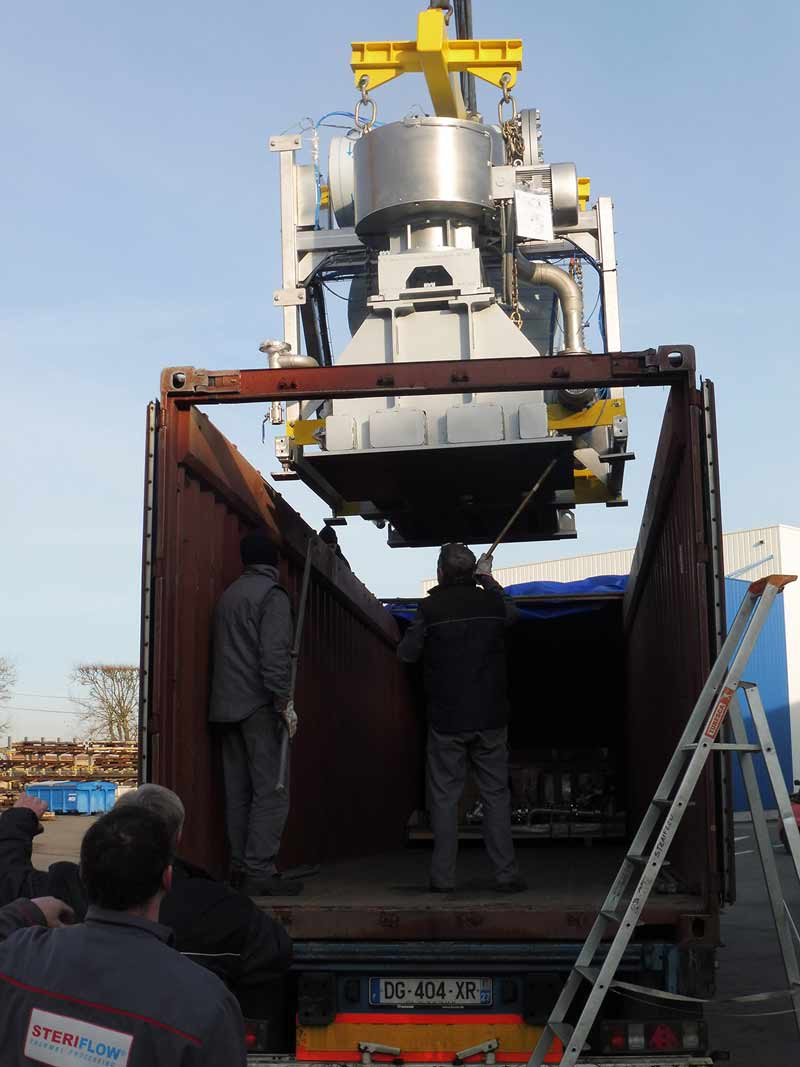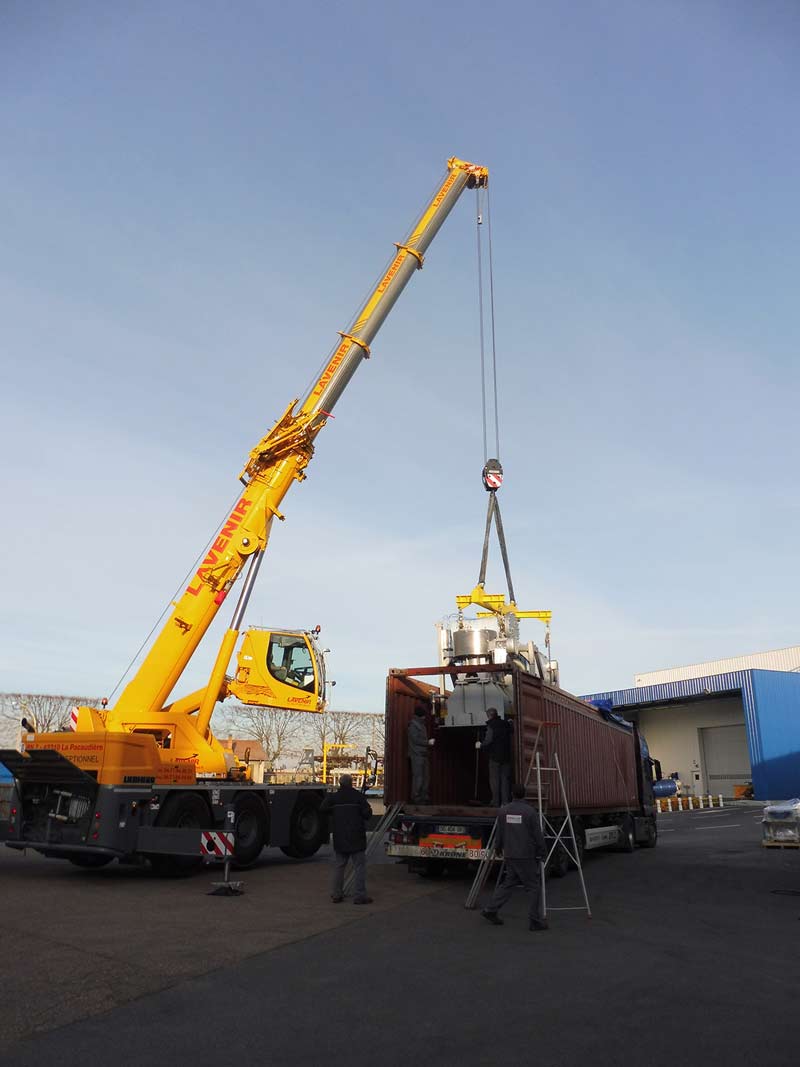 2/ Custom-made autoclaves that do not fit our transporters' standard measurements
A French customer once ordered a custom-made autoclave that was larger than our standard average. As its diameter was 2 metres and the width of a lorry is 2.4 metres, it could not be loaded with its side attachments. We therefore decided to deliver it on a platform. A tailor-made tarpaulin was specially designed to protect this autoclave during transport, in case of bad weather.  
3/ Faster delivery by plane
One of our customers wanted their Steriflow autoclave to be delivered as quickly as possible. Generally, our autoclaves are delivered in containers and travel by boat. This rather special order meant we had to find a quick and efficient solution to deliver our industrial autoclave, and we turned to air transport.Once the transport means had been selected, we had to design a base capable of supporting our autoclave, and most importantly one that was suited for loading into a cargo plane via a rolling platform. The commissioning customer, located in Asia, therefore received the plant-to-plant delivery one week after it left our factory in France – as opposed to two months in standard sea transport conditions.