An efficient day-to-day support service: Steriflow after-sales service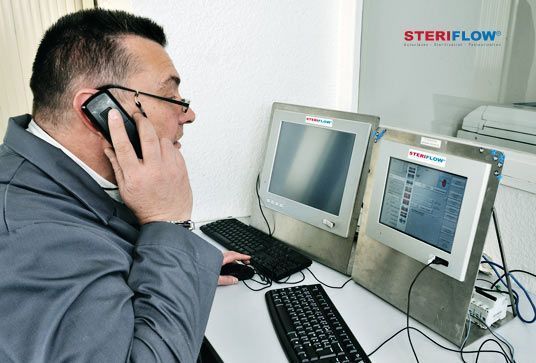 Adaptability to all situations
For over 45 years, customer satisfaction at Steriflow has been a major objective. Its ability to gather and respond to its customer's needs has enabled it to gain their trust in a solid and lasting relationship.
The Covid-19 health crisis that we went through and are still experiencing has had an economic impact on many companies, particularly in the food and pharmaceutical industries.
Steriflow's After-Sales Service (SAV) is available to provide guidance on the correct use of industrial autoclaves. It is a remote support and intervention service. It is made possible thanks to the embedded software integrated in the MPI Expert control system. This computerized and secure link allows the after-sales service to connect to the control unit via an Internet connection. Exchanges are made between Steriflow and its customers in complete safety.
Thus, in full containment, when the borders were closed, Steriflow's after-sales service was able to provide several remote interventions by videoconference. In particular, a food-processing customer in Northern Europe needed support for the start-up of its machine received during containment. This food manufacturer needed to quickly resume production in order to meet the strong demand from large retailers. This remote start-up enabled the customer to quickly ensure its production.
By providing a reactive and efficient service, Steriflow once again proves its superiority and commitment to its customers. The robustness of its machines and the technologies embedded in its MPI Expert control-command are the expression by Steriflow of an innovative and service oriented company.