304L stainless steel : A better corrosion resistance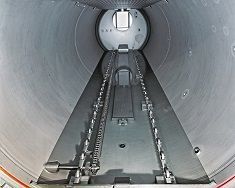 Steriflow provides you with the best quality
Whereas most of its competitors use 304 stainless steel for the construction of the vessels, Steriflow uses 304L stainless steel (or 304 "Low carbon") to offer you the best quality.
The stainless steel types 304 or 304L are also known as 18/8 stainless because of their chemical composition including approximately 18% chromium and 8% nickel by weight. They are widely used in the food and drink processing industries because they are easy to form and to weld and have a great resistance to corrosion. Type 304 and 304L have very similar chemical and mechanical properties. The only difference between them is the carbon content; the 304 stainless steel has a maximum range of carbon of 0.08% whereas the 304L has a maximum range of 0.03%.
This range of carbon in the steel affects the corrosion resistance of the tanks. During the welding of the steel, a phenomenon called "chrome carbide precipitation" occurs at a temperature between 800 and 1500°F (425 and 815°C). The Chrome combines with the carbon of the heat affected zone and precipitates as chromium carbide at the grain boundaries. As a result, it significantly reduces corrosion resistance of steel in this zone. As 304L steel has lower carbon content, the risks of chrome carbide precipitation are much minimized.
To provide you with the best viability and reliability autoclaves, this low carbon stainless steel appeared as the obvious choice for Steriflow's experts : it lowers the risk of corrosion around the weld. 
The change from 304 to 304L was made 20 years ago. Today, Steriflow autoclaves have longer life expectancy than other solutions.