SUPER DALI Simplified upkeep and maintenance
Super Dali is a new generation autoclave guaranteeing a reduced sterilization process. This autoclave is suitable for the sterilization of low viscosity products such as milk, soups or sauces. Benefit from the performance of a rotating model at a good price with medium frequency shaking
Super Dali an innovative product
Designed for low viscous products such as milk, soups or sauces, the Steriflow® Super Dali performs as efficiently as the rotary model but at a more economical price. As with the rotary model, a headspace (air bubble) is required so that the shaking can work and prevents the sugar from browning during sterilization. Moreover, the Steriflow® Super Dali offers shorter sterilization cycles. Depending on the packaging types, specific or standard baskets can be used. Its simple mechanism has a limited number of parts, which is an additional advantage for upkeep andmaintenance. It enables exceptional temperature uniformity on low viscous products.
Technical specifications
• High-frequency longitudinal movement: 90 back and forth (45 shakes/minute)
• Superheated cascading water model
• Diameters: from 1300mm
• Capacity of 3 to 5 baskets, depending on the model
Temperature : 
The sterilization temperature (sterilization value or FO) is defined by the manufacturer and will depend on the initial contamination of the product and its bacteriological characteristics.
Benefits
Simplified upkeep and maintenance
Exceptional temperature uniformity on products with low viscosity
Reduces the risk of browning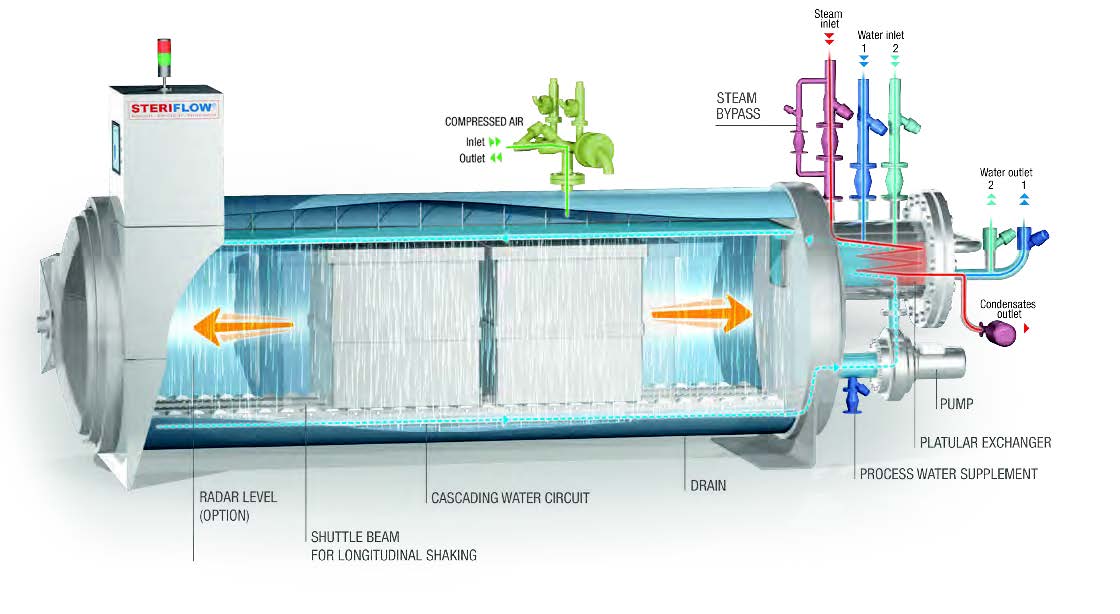 Operating principle
The process water (100 litres per basket at the bottom of a standard device, fully reused) is sent by the pump to a welded heat exchanger where it is heated by the steam at the beginning of the cycle, then cooled using cold water at the end of the cycle. The process water then passes into the cascading water manifold, which ensures a strong and uniform flow onto all products.The counter pressure is accurately controlled throughout the cycle either by injecting or purging compressed air.Throughout the cycle, a conveyor table shakes the products back and forth, at a speed of 45 shakes/minute.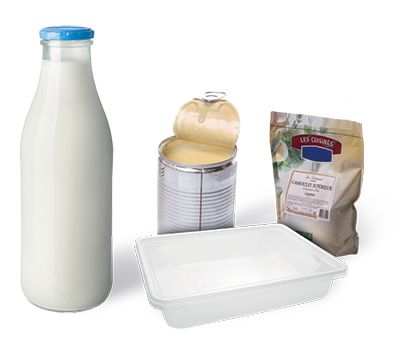 Types of packaging or products
Liquid products – Dairy products – Sauces – Soups
Pouches – Trays – Bottles – Cans